1st Giveaway - Win A Free Domain!
Monday, August 6, 2012
Holla ヾ(´・ω・`) Dua hari lepas Qay tag saya masuk Giveaway ni. Heheh. Join je lah since saya bosan menunggu pukul 12  ̄ー ̄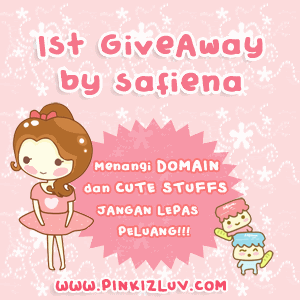 Jadi pertama saya kena senaraikan 5 wishlist. K berapa lama dah saya tak pikir pasal wishlist eh haih /flips everything/ Takpe takpe lol. K.
1) 9A+ dalam SPM (of course ler).
2) A Polaroid or instax ・ω・
3) Game original The Sims 3 + Expansion packs /wah/
4) A life-time supply of cat litter & cat food (for my cats lah)
5) To live a happy life ヽ(´・ω・`)、
Kenapa perlu domain ini?
Well takde kot istilah 'perlu'. But kalau ada domain at least nampak lah ke-professional-an nya kan lol. And maybe saya boleh buat business dengan domain tu hohoho /takde kaitan/.
K sekarang saya nak tag :
Nieysa Oh-Som ★彡
Syira Zoro ★彡
Wish me luck gaise. Assalamualaikum(o
。
o;)
Btw saya tukar link blog tutorial saya ke ; nananitchiepie.blogspot.com (url lama) xoxo
Labels: Contest, Giveaway, Yayerz